Dream Weddings Come True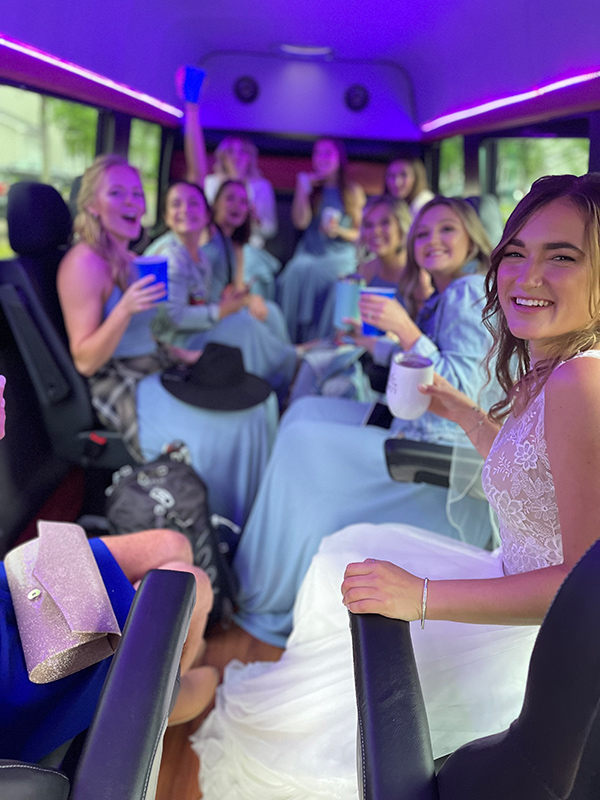 Make your VT dream wedding even better with our Vermont Wedding limo services! It's your big day: Enjoy the wedding ceremony and the reception to fullest… And leave the driving to Vermont VIP Services!
Vermont Wedding Limo Choices
Vermont VIP's chauffeured limousines and Mercedes passenger & limo vans can transport bride, groom, wedding party and guests in luxury and style.
Getting to the Chapel
From quaint secluded country weddings to popular romantic wedding spots like Stowe, Woodstock, Manchester, Lake Champlain & Burlington, our reliable chauffeured wedding limo will get you there. We also provide limo transport to and from area airports including Burlington BTV and Stowe MVL, to get your wedding party and guests to and from your wedding.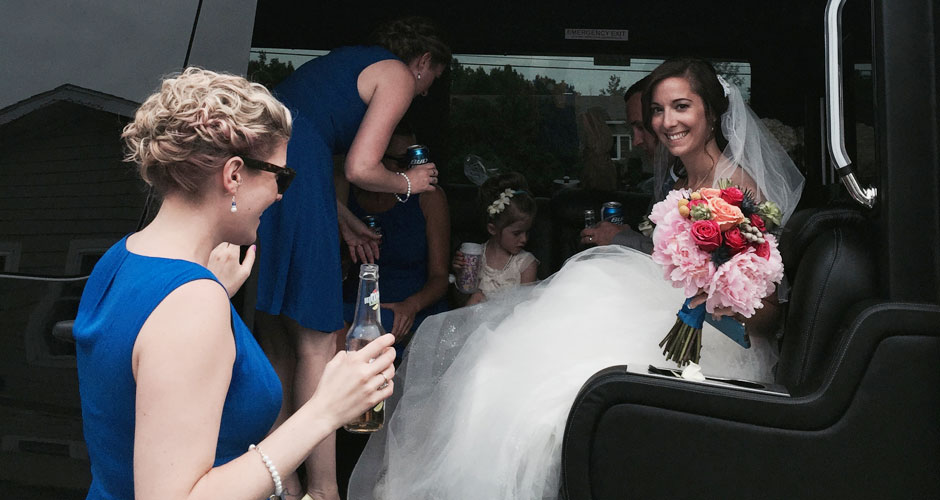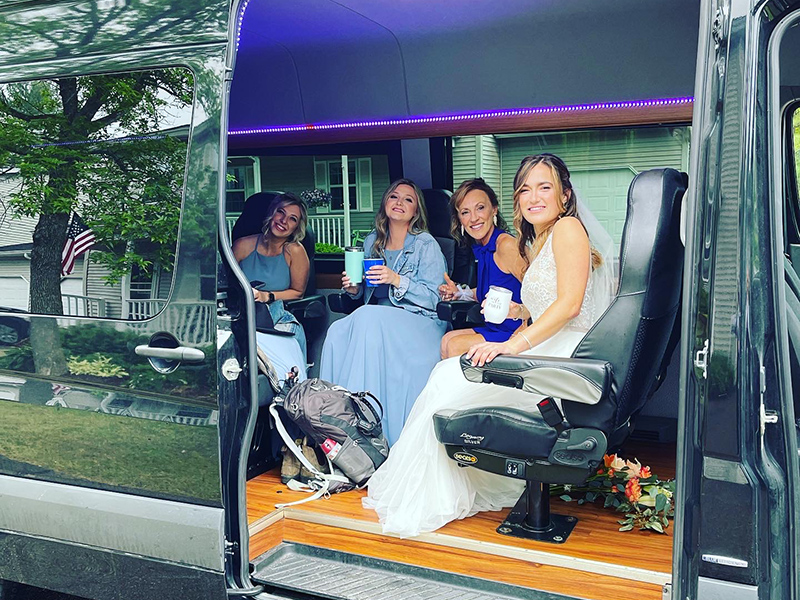 ---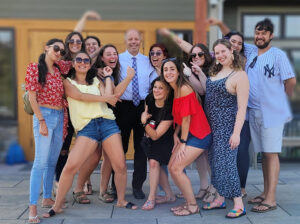 We just wanted to say thank you for giving us such a wonderful experience yesterday! Tom was the perfect fit for our group and allowed us to have an absolute blast. We could not have been happier. We will definitely recommend you to others/ use your service again if we are up here.
"Simply put, I cannot say just how wonderful my experience with Vermont VIP Services has been. They unfailingly always go the extra mile and their level of courtesy and professionalism far exceeds all expectations.
It is always a pleasure to make my transportation arrangements with this company, as they are without fail exactly right on time, communicate beautifully regarding my itinerary, and show the utmost level of consideration in assisting me with my luggage – and given the amount of baggage I travel with, this is particularly appreciated!
Better still, this lovely company provides service around the clock, so late Arrivals and early Departures present no problem.
Vermont VIP Services has effectively eliminated my concerns about all aspects of road travel (here very dark roads at night as well as inclement weather come to mind) , and it is without hesitation that I highly recommend this first-rate company."
"We used Vermont VIP for a brew tour last weekend. Jim worked with us from start to finish crafting the perfect day to spend in Vermont. He was a great driver and incredibly professional.  I would definitely suggest giving them a call for all your limo needs!"
We used Vermont VIP Services to do our own version of a Birthday Party VT Brew Tour last weekend.  We had shopped around to some of the other businesses in the area that offer brew tours, and none of them offered what we were looking for.  I stumbled across Vermont VIP's website almost by accident, and I couldn't be happier that I did.
I worked primarily with Jim on organizing the day and working through all of the details.  Jim was very down to earth, honest, and easy to work with.  He gave some helpful hints about what works best, etc., and basically said that their biggest concern was that we HAVE FUN!
Our driver, Peter, was really great as well.  He had a "go with the flow" attitude that added to the fun atmosphere of our day.  When our group took a little too long at a few of the breweries and we were off of our schedule, Peter was extremely accommodating and helped us work out a new plan to get us to our dinner reservation on time at the end of the day.
The van was on time for pick up, clean, roomy, and comfortable.
I would absolutely use this company again in the future!
One suggestion I would make if you plan to book is to ask about the different vans.  I didn't know that they had the 13 passenger van we used (13 individual seats, set up kind of like a bus) AND a "limo" version, where the seats are set up like a bench around the perimeter of the van.  If/when I plan another party, I'll definitely request the "limo" version to help make it easier for everyone to socialize while traveling around!
All in all we had an amazing day out with Vermont VIP Services.  Thank you so much for making my birthday special!
"Look no further than Jim Maynard to plan a VT outing.  Jim is knowledgeable, accommodating and one of the nicest people you will ever meet.  His vehicles are in tip top condition and his staff is excellent.
Our group consisted of 24 which required two of his larger vehicles.  We used a 13 passenger Mercedes Sprinter limo and a 12 passenger Ford Transit.  Both vehicles had something different to offer and each member of our group was comfortable for our tour of VT's finest eating and drinking establishments.
We were extremely impressed with Vermont VIP Services and wouldn't think of calling anybody else to plan another trip in the Burlington, VT area.  Thank you, Jim!"
"I recently was with a group of friends for a Vermont weekend where we had Jim driving us around to different breweries. Jim made sure that everyone was safe, happy, and most of all, having a good time. It was easy to coordinate logistics and the fees that he charges were very reasonable. The Mercedes Sprinter is awesome!! And the passenger vans were also nice as well.
I recommend Jim to others looking for a fun and safe tour of Vermont."
"Wow!  What an amazing experience.  We rented 3 party vans to go on a craft brewery tour of Burlington, VT.  Jim and his drivers knew all of the good places to go.
Jim and his drivers not only made us comfortable, but soon after the tour commenced, we felt like we had known them our whole lives and they were part of the group!!
Great guys, great prices, very professional.  5 stars all the way!"
"I first rode with Jim and Vermont VIP services for a company event that needed shuttles to the event site. Jim as such a great, fun guy that I grabbed his business card knowing it would come in handy one day.
6 months later it did – I asked Jim if he could take a group of 10 down to Stowe and back for the 5k Craft Brew Festival. We are a very energetic bunch and Jim handled it so well. He let us play our music (and loudly) and was a good sport.
He even came into the brew fest area to find us and round us up, fully knowing we had sampled a lot of the beers because he wanted to make sure everyone was safe and could easily find his van.
This past weekend he drove us down to a wedding and his driver Cory (he deserves serious recognition for dealing with 13 post-wedding intoxicated twenty somethings) took us home.
The best businesses in Vermont make you feel like part of our community and Vermont VIP services does just that. Jim's the type of guy who feels like a close friend after just one ride (note: most other cab companies do not have this feel).
So, whether or not you are from the area, Jim / VT VIP services should be the first business you call to have your transportation needs handled."
"Jim offers a great service!! My friends and I have used him for a couple of different occasions (that involved alcohol) and have gone above and beyond to make sure we were safe and all there. He definitely made each experience a lot better. I would recommend this service to everyone and for any occasion. You will not be disappointed."
I planned a last minute get away brew tour for my husband's birthday. It was incredibly difficult to find a service. They either said no or didn't respond.
Vermont VIP to the rescue! JoEllen immediately responded to my inquiry and set us up with a private suburban foe the trip! When I need to add on an extra hour, no problem. Gary, our driver, was courteous and knowledgeable. He recommended which breweries for lunch and which to just wander. We were true VIPs all day long!
Highly recommended and will absolutely use again!
"Jim and his group are wonderful, on time, great vehicles and very accommodating.  They took us from Portland Maine to Woodstock, Stowe and back to Boston. We came to see the colors and Jim made sure we did! Thank you Jim, Gary and Cameron for a great experience."
"I rented a party bus through Vermont VIP Services this past July for a large group brew tour and the whole thing was perfect. Coordination with JoEllen over pickup, the locations we wanted stop at and our return home was seamless and incredibly easy. We had a great time throughout and the driver was very professional and made even our ride a great time, definitely would recommend to a friend!"